2015 Top 10 Made In USA Kids Gift Ideas For Christmas
Where Have All The Great Made In USA Kids Gift Ideas Gone?
The sad thing about trying to compile this list of "Made in USA Kids Gift Ideas" is just how hard it is actually becoming to actually find toy companies that are still manufacturing their products in the United States.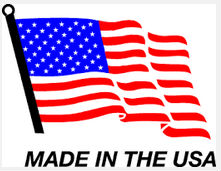 All the major toy manufacturers like Mattel, Lego, Hasbro, Fisher Price , Playmobil etc,  have long ago moved their manufacturing operations to take advantage of cheap sweat shop labor in Asia to try and appease the demanding margins requested by buyer representatives from profit driven US mass merchandisers.
The impact of these demands by these unreasonable retail buyers on the US toy manufacturer have not only lead to an exodus of hundreds of US toy businesses to Asia and other third world countries, but have also caused closures of thousands of small toy retailers, subsequently leading to the loss of millions of manufacturing and retail jobs across the country.
In fact it is only the advent of the Internet that has made it possible for a lot of the smaller US niche toy manufacturers to survive in today's retail market.    These same small toy manufacturers all bear financial scars from their horror dealings with mass retailer buyers, that have ruthlessly sucked every ounce of profit margin out of their businesses.
It is for this reason that you will never hear much sympathy from the US manufacturing sector, directed at the management and shareholders of these parasitic retail giants, when they lament through their highly paid PR consultants in main stream media,  the negative impact on their bonuses and annual dividend returns caused by online companies like Amazon and other major online retailers.
The simple fact is the Internet is proving a panacea for these small US based toy manufacturers, with their online web sites and working with companies like Amazon and their FBA service.   These online retailers provide these smaller US toy manufacturers, providing a marketing and distribution infrastructure to enable them to sell their US made toys direct to their customers, effectively circumventing the profit sucking intermediaries and demanding retail buyers.
The following list of Top 10 Made in USA Kids Gift Ideas For Christmas are all examples of quality US Made products that are predominantly all sold online direct from the manufacturers' web sites or via Amazon and other major online stores.
So with the Holiday season nearly upon us, we highly recommend you support these loyal US toy manufacturers and buy Made in USA kids gift ideas for your kids and grandchildren this Christmas.
BOX4BLOX – Ultimate Lego Brick Sorter and Storage Box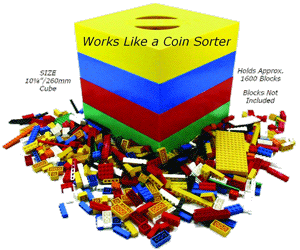 Award winning BOX4BLOX turns your every day Lego mess into organizational magic! By using the same simple sorting action of a coin sorter, just load handfuls of bricks in the BOX4BLOX, gently shaking the box as you go, and all the Legos are automatically sorted into a tray with similar sized pieces. When assembled, the BOX4BLOX forms a colorful 10¼ inch cube that holds over 1600 Lego bricks. Made with the same high quality ABS plastic as Lego uses. Comes with a 5 year replacement part guarantee. 
Click Here To Learn More And Purchase>
 
Dump Truck by Green Toys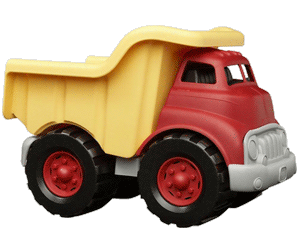 Need help hauling a big load while helping save the planet? The Green Toys Dump Truck is ready to get working. Made from 100% recycled plastic milk containers, this really is the most energy efficient vehicle on this or any planet. The super cool eco-design has a workable dumper and no metal axles. Easy to clean, dishwasher safe. No BPA or phthalates and PVC meets FDA food contact standards.
Click Here To Learn More And Purchase>
Jumble Blocks Beginners Set by Kids Adventure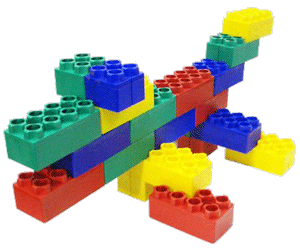 This 24 pcs. Jumbo Blocks Beginner Set is ideal for young kids who are just starting to play by putting things together and explore their creativity. Made with durable plastic, these oversized and interlocking blocks have soft rounded corners and give a worry-free environment. Parents and children can have endless play possibilities and at the same time ensure the development of gross motor skills.
Click Here To Learn More And Purchase>
Little Tikes Garden Table by Little Tikes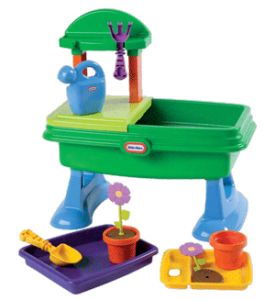 Little Tikes Garden Table will inspire kids to connect with their world through dramatic, creative, and imaginary play, while promoting social interaction for everyday fun. The Little Tikes Garden Table play set teaches kids how to plant and water flowers. The bench table-top design encourages multiple child play. The water can really works and the basin can hold water and includes a drain plug.
Click Here To Learn More And Purchase>
Luna Star All Natural Play Makeup Kit Super Star by LunaStar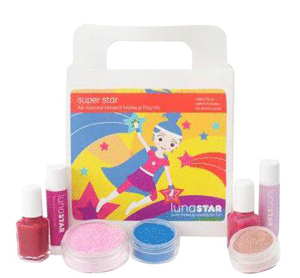 Every girl is a star, Multi-use kit contains full size: Electric Blue eyeshadow (1 g), Go Bronze eyeshadow (1 g), Cheeky blush (3 g), Red Raspberry Shimmer lip balm, Pink Bubble Gum Shimmer lip balm, Red Rocks! nail polish, Think Pink nail polish, Blush & eyeshadow applicators. No parabens, phthalates, synthetic dyes and 100% non-toxic.
Click Here To Learn More And Purchase>

Melissa & Doug Deluxe Band Set by Melissa & Doug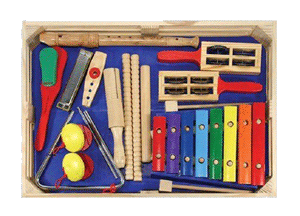 Got music? Everything needed for a solo performance or to form a marching band. Features a xylophone, a kazoo, castanets, a harmonica and a jingle stick in a wooden crate! Ideal for involving preschoolers in the musical experience. From tapping out melodies on the xylophone to clicking the castanets, creating new tunes will be a breeze with this Melissa & Doug band set.
Click Here To Learn More And Purchase>

NameTrain Town Set by Maple Landmark
Beep beep! Toot toot! Chug-a-chug-a-chugga! There's no end to the busy in a Town Train Set. This is their largest set with a 56-piece set that lays out to 24″ by 38″. Individual cars measure about 3″ long by 2″ high each and have a non-toxic finish.

Straight track is grooved on one side. Curved track, switches, puddlejumpers, and bridge approaches are grooved on both sides. Buildings are about 1-5/8″ thick, vary in height and width, and are printed one side only. All track is sanded smooth with laser-engraved stripes, and is unfinished. Vehicle, building, and track pieces are crafted from locally sourced, sustainably harvested hard maple and are compatible with our, Brio®, Thomas the Tank and other wooden train systems. All NameTrain pieces and track are compatible with themselves and other wooden track systems.
Click Here To Learn More And Purchase>

Organic Eco Friendly Plush Moo Cow by Taraluna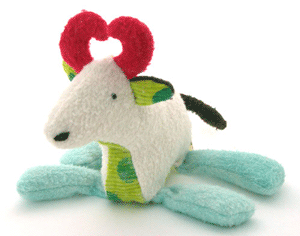 MooBelle Cow Eco Friendly Plush Doll is a cute and colorful friend for your farm loving little one. Oh what fun it is on the farm! With bright colors and super soft organic cotton Sherpa, this eco friendly doll would sure to be a favorite to cuddle and play imaginatively with. MooBelle is handmade with love, using only soft natural materials like bamboo fleece and organic cotton corduroy, all hand dyed and printed.
Click Here To Learn More And Purchase>

ROCK ON! Geology Game with Rock & Mineral Collection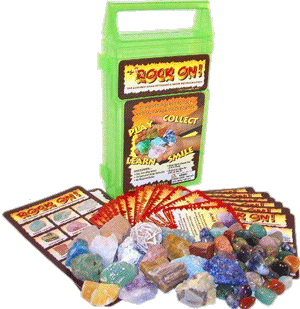 Spark kids interest in Rocks, Geology and our magnificent Earth via this teacher-recommended, fun, learning game. This American-Made product includes 40+ polished Rocks & Minerals and an 18-Specimen Rock & Mineral Collection any kid would be proud to own. Plus Player Cards for up to 6 players along with a Master Rock Guide, 18 Rock Call Cards chocked full of educational & fun facts, and instructions. All enclosed in a kids Carrying Case with an easy-grip-handle. Grab it & go on play dates, in the car, to school, or Grandma and Grandpa's house. A unique gift for any boy or girl. Play, Collect, Learn, Smile and… ROCK ON! 
Click Here To Learn More And Purchase>
Sensory Baby Tag Blanket, Pink & White Polka Dot by Baby Jack Blankets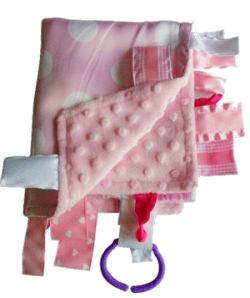 Babies love our Tabs and Moms love that it provides comfort and play. Allows entertainment and stimulation along with security. Ribbon Tabs are sewn shut – double stitched – to prevent tiny fingers from getting intertwined in loops. We provide one "link loop" to attach a pacifier clip/toy. Also used for special needs, autism. Handmade by moms from the Midwest.
Click Here To Learn More And Purchase>

Uncle Goose Classic ABC Blocks with Canvas Bag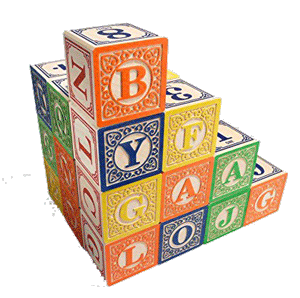 How can you improve on a classic? Make it mobile. This set of 28 classic ABC blocksFits inside a sturdy cotton canvas drawstring bag, and is neatly presented in a beautiful display box. Each block features animals, numbers, math symbols, and letters. The canvas bag is a great way to stow away blocks for a road trip, or to just clean up and organize a playroom. 28 – 1.75 inch basswood cubes printed with non-toxic, lead-free, child safe inks. Uncle Goose blocks are 100% handcrafted in Grand Rapids, MI from fast-growing and sustainable Great Lakes grown basswood.
Click Here To Learn More And Purchase>

If you are a US toy manufacturer have any suggestions of any Made In USA Kids Gift Ideas and want us to add your companies products to this list, please contact us using the contact form below.