Looking for Lego Shelving Ideas to Display and Exhibit Your Latest Lego Creations and Models?... Check Out Articles, Reviews and DIY Ideas on How to Find the Best Lego Shelving Systems and Display Units Storage Solutions For Your Home.
Below I have put together a comprehensive resource of information on the various different Lego shelving ideas and options for showing off your assembled Lego sets to keep them safe and out of reach of small hands.  These include links to online articles, product reviews, DIY ideas, plus many other tips and solutions highlighting the many different types of Lego shelving systems and products that there are available.

Firstly, I suppose you are wondering why on earth, when I have invented a great product like the BOX4BLOX that I am writing these pages highlighting Lego storage ideas and other Lego  shelving products.

Well the reason is; it doesn't matter how much Lego you have in your home, or how you already store it, we know that you will find the BOX4BLOX an invaluable addition to your Lego collection to help eliminate all your Lego woes! 

Click the video on the right and see why the kids (and especially the Moms) love the BOX4BLOX Lego Storage and Sorter Organizer.



Lego Shelving Systems and Display Units Are The Best Way To Store and Exhibit Assembled Lego Sets
There is a huge selection of Lego shelving display units and ideas available online to help find the perfect Lego shelving system for your children's rooms.

Below I have provided my view on what type of Lego storage shelving solutions that I have used for my own kids Lego storage and at the bottom of the page I have provided links to individual product pages, highlighting a selection of other great Lego storage shelving ideas.

On these pages, I have researched online and provided you with a collection of product descriptions, images, product reviews, and online videos and where to go online to buy the best shelf systems for storing and exhibiting your own kids' Lego.

Personally, as far as I am concerned, when it comes to buying effective shelving for the kids Legos, the main prerequisite is that it has to be wall mounted, or at the very least with the top shelves well off the floor.

Lego shelving mounted on the wall provides the perfect place for the older kids to store and exhibit their treasured assembled Lego models up high, away from the temptation of smaller hands.

As you know, there is nothing more frustrating than for your child to have spent ages assembling an intricate Lego Star Wars or Mindstorms model, only for it to be dropped and broken apart by an inquisitive younger brother or sister.

It is for this reason that I am a great fan of having a toy shelf, or set of toy shelves, on each of my kids' bedrooms walls for them to exhibit, not only their Lego creations but any of their more treasured toys and books.

In fact, good shelving units for storing and exhibiting Lego creations also goes along with my "Think Vertical" theory of effective toy storage. The attraction of using toy shelving enables everything is stored from bottom to top and up off the floor, making much better efficient use of floor space.

Toy storage units with shelves can be easily incorporated into corners and recesses ensuring maximum use of space for storing the kids' Lego and other toys and games.

In cases, where your child may have a huge amount of Legos, a good Lego toy storage shelving unit may be a good option. The attraction being that you can store all the Lego sets in the drawers and shelves at the bottom and store the made up Lego sets and creations on the top shelves, so they are still out of the way.

As you can see below there are numerous other Lego shelving ideas and products available, like freestanding Lego shelf units, with baskets, bins, or buckets; lots of DIY Lego storage shelving ideas and many more great ideas for storing and organizing Legos in your children's room and playroom.

Check Out More Toy Shelving and Toy Storage Options at ToyStorageTips.com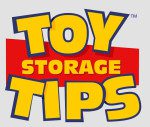 As you can see below I have provided individual images and product links where you can research further information on different Lego shelving systems and storage options that you can buy directly from Amazon.com. 
These products are located at my other blog site www.toystoragetips.com, where I have categorized and showcased all the new and bestselling toy storage products that are currently available.
  
Watch the Video and See Why
Lego Loving Kids & Lego Fans


(and especially their Moms)


LOVE the Award Winning


BOX4BLOX Lego Organizer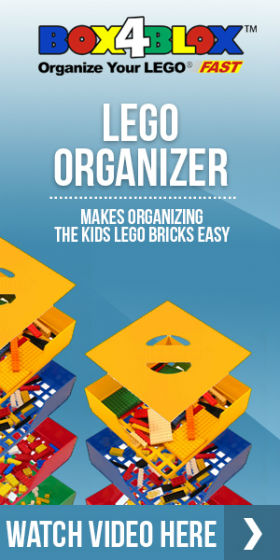 Check Out These Great Lego Shelving Systems and Display Units At Amazon.com