Looking for Hanging Lego Storage Ideas?... Check Out Articles, Reviews and DIY Ideas on How to Find the Best Hanging Lego Storage Solutions For Your Home.
Below I have put together a comprehensive resource of information on the various hanging Lego storage ideas available.  These include links to online articles, product reviews, DIY ideas, plus many other tips and solutions highlighting the many different types of hanging Lego storage products that there are available.

Firstly, I suppose you are wondering why on earth, when I have invented a great product like the BOX4BLOX that I am writing these pages highlighting hanging Lego storage ideas and other Lego storage products.

Well the reason is; it doesn't matter how much Lego you have in your home, or how you already store it, we know that you will find the BOX4BLOX an invaluable addition to your Lego collection to help eliminate all your Lego woes!

Click here or the banner to the right to watch the video to see why the kids (and especially their Moms) Love the BOX4BLOX.
Hanging Lego Storage Helps Keep Everything Vertical

There are numerous hanging Lego storage options that can be used to keep the kids' Legos up and off the floor, but what I like most about using hanging Lego storage solutions is that it is a great way to follow my general toy storage organizing principles of "keeping it vertical".
In fact, here is a great hanging Lego storage system for exhibiting assembled Lego Starwars models, like the LEGO Star Wars Millennium Falcon and other popular Lego plane sets like the LEGO Creator 31039 Blue Power Jet.
The other attraction for hanging up Lego models like this, is that it also keeps them up and out of reach from those inquisitive smaller hands. 
Plastic Storage Bins Ideal Hanging Lego Storage For Lego Fans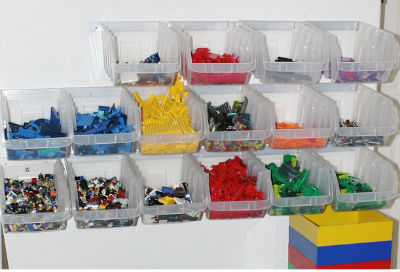 simplyorganized.me
If you are a keen Lego enthusiast with thousands of Lego pieces a great way to organize your Lego collection is to use those plastic storage bins you see in hardware stores that fit on to rails. 
These are a great hanging Lego storage option when you have thousands of Lego parts, as they can be easily removed from the rails and, if set at the right height, you can see what is in the trays, so pieces can be quickly put away.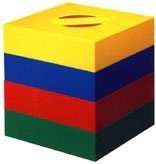 Of course, I included this image above not only because it featured the BOX4BLOX, but also to highlight for those of you with large a large amount of Lego, how it is a great accessory to help keep your Lego collection organized.
Here is a link to a product review, carried out by the popular Lego enthusiast web site, www.brothers-brick.com, that emphasizes the merits of the BOX4BLOX in helping keep a large Lego collection organized.   CLICK HERE to read review 
Play Mats with Drawstrings Are A Great Hanging Lego Storage Idea
We have all seen those clever toy storage bags, that have a drawstring around the perimeter of the mat, so that they can quickly convert from a play-mat to a storage bag, at the blink of an eye.
The other major benefit of these playmats with the draw-strings is that they make an excellent hanging Lego storage solution, as they can easily be hung on a hook behind a closet or bedroom door when not in use.
I have to admit these were my personal favorite, especially when the kids were younger, as I stored all their larger Lego Duplo blocks in them.  
These bags were also very handy when we were going on vacation, or sending the kids to stay with their grandparents, as it was just a case of throwing a selection of their other toys in with their Duplo blocks and throw them in the trunk.
Visit Pinterest For Great DIY Hanging Lego Storage Ideas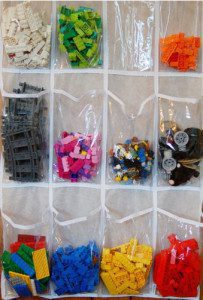 If you are into DIY, the best place to get great ideas for hanging Lego storage is on Pinterest.
Click on this link here and it will take you directly to the Pinterest page highlighting lots of great DIY hanging Lego storage ideas using: magnets, buckets, baskets and a multitude of other clever DIY ideas, like the clear hanging shoe holder idea for storing Legos above.
If you are a keen home sewer, here is a link to a DIY web site where you can download a pattern for the popular Lego playmats with the drawstring that I mention above.
Fabric Mill: DIY Toy Bag & Play Mat Hanging Lego Storage Idea
Check Out Hanging Lego Storage Products at ToyStorageTips.com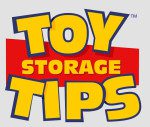 As you can see below I have provided individual images and product links where you can research further information on each individual hanging Lego storage product.
These products are located out our sister blog site www.toystoragetips.com, where we have categorized and showcased all the new and bestselling toy storage products that are available.
Click the images below and you will be taken to an individual product page where we have highlighted each hanging Lego storage item featuring articles, videos, links, how to use instructions and a streamlined buying process that automatically hunts out the best deal to buy your hanging Lego storage product online. 
  
Watch the Video and See Why
Lego Loving Kids & Lego Fans


(and especially their Moms)


LOVE the Award Winning


BOX4BLOX Lego Organizer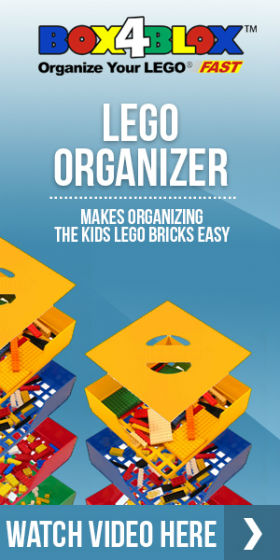 Check Out These Great Hanging Lego Storage Products