No Need For Lego Slippers With BOX4BLOX
If You Have a BOX4BLOX Are These Fancy New Lego Slippers Really Necessary?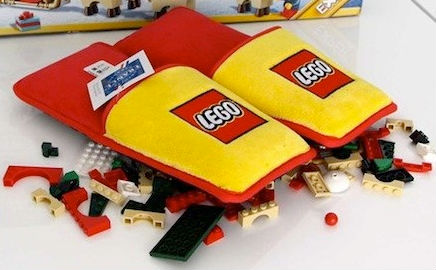 No doubt, over the next few days, you will be hearing about these new fan-dangled Lego slippers that are supposed to keep the bottom of your feet protected from those pesky sharp Lego bricks that get left on the floor.
The world's media are awash with stories about these supposed break through Lego slippers invention to rid the family home of this universal problem.
The problem is, for those of you that have a BOX4BLOX Lego organizer, Lego mess is no longer the problem it used to be, which is why we are saying:
If they had a BOX4BLOX the Lego wouldn't be on the floor in the first place!!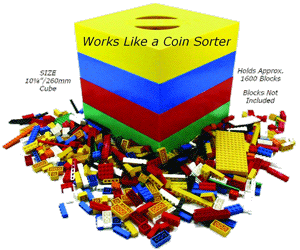 Take a look at the award winning BOX4BLOX Lego organizer by clicking the image above and see it in action and see why Moms love the way the BOX4BLOX keeps the Lego mess off the floor.
Here are some of the media stories and headlines regarding the new Lego slippers that have already begun to appear:
LEGO finally makes slippers to protect parents' feet
HT: Huffington Post

LEGO Slippers Will Protect You From Unbearable Pain of Stepping on LEGOs

Anyone that has ever spent even a modicum of time in a house full of LEGOs knows that eventually, no matter how careful you are and no matter how much you insist on cleaning up, you will eventually step on one and the pain will be far greater than a tiny piece of plastic should be capable of producing. Then you'll do it a bunch more times and start to question the point of living.

Which is why it makes sense that LEGO itself is now trying to help you avoid the worst part about owning their product, with special, extra-padded LEGO slippers. (Don't worry, they aren't made of LEGOs.)…..  Read More Here

These LEGO Slippers Are a Genius New Invention

Your feet will thank you.

Ever step on a sneaky LEGO that your child somehow missed while cleaning up? A new pair of slippers is here to help. Brand Station, a French advertising agency, is working with LEGO to give parents extra-padded footwear to prevent pain and agony this holiday season.

If you think this idea is as genius as we do, you're probably wondering, "How do I get my hands (or feet) on a pair?" Brand Station is only making 1,500 sets, according to Piwee. To be one of the lucky recipients, you have to fill out a wish list on the LEGO France website. Then, the company will distribute slippers randomly.

Hopefully, LEGO soon realizes that stepping on their bricks is an international issue. We'll be first in line at the store if this handy invention ever makes it to the U.S.